New Patients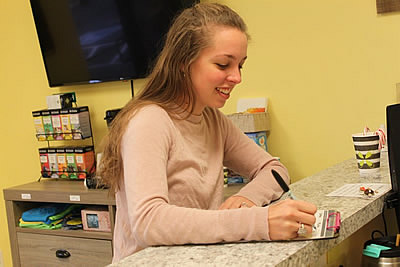 At Bright Futures Chiropractic, we keep a fun, lighthearted and playful environment that your whole family will love. Your kids have space to play and plenty of toys to keep them busy. If you're coming in with your children, we encourage you to fill out your paperwork and bring it in with you completed.
Please wear pants or shorts if possible. If you come in wearing a dress or skirt, we can provide you with clothes to change into.
Your First Visit
Dr. Carolyn wants to sit down with you and get to know all about you. We'll discuss your history and goals, then take scans with the CLA INSiGHT™ technology. Once we gather the necessary information, Dr. Carolyn will sit down to study your case and determine how we can help you. This appointment takes about 30 minutes.
Your Second Visit
At your next appointment, you'll be with us for about 20-30 minutes. You and Dr. Carolyn will go through the results of your examination and scans. You'll find out what we recommend moving forward with your care and have all the financials explained to you.
You don't have to wait to get in. Contact us now to book a same-day visit!
CONTACT US »
---
New Patients | (865) 995-6208